One of my favorite things to do is decorate! I love creating spaces that feel like home and when Tuesday Morning reached out to see if I wanted to decorate a space for a loved one I was SO EXCITED! The person who immediately popped into my head was my sister! She recently moved into her first post-college apartment and has been asking me to decorate. She actually told my mom a few weeks before that she never thought I was actually going to do it and it was so hard to not say anything! For real though, my sister is my best friend and is one of the people I most admire. It really wasn't a question who I would pick because she is constantly giving back to others and is always there for me and all of our friends.
My main focus for her room redecoration was her bedroom office space. I found this cute letter board for $10! My sister recently started reading Harry Potter so I added a book-themed quote! Since she's been really busy, I also picked out a few faux plants that won't require any maintenance. The cactus and mini succulents had such cute planters I had to get them! The mini globe was $15 and her favorite color so I went ahead and picked that up as well. Now if you've been following me for a while, you know I have an obsession with twinkly string lights! They had a lot of different kinds so I picked up a long strand to go around the prints I put up. Also, I ended up creating a space below her desk to organize her printer and desk accessories.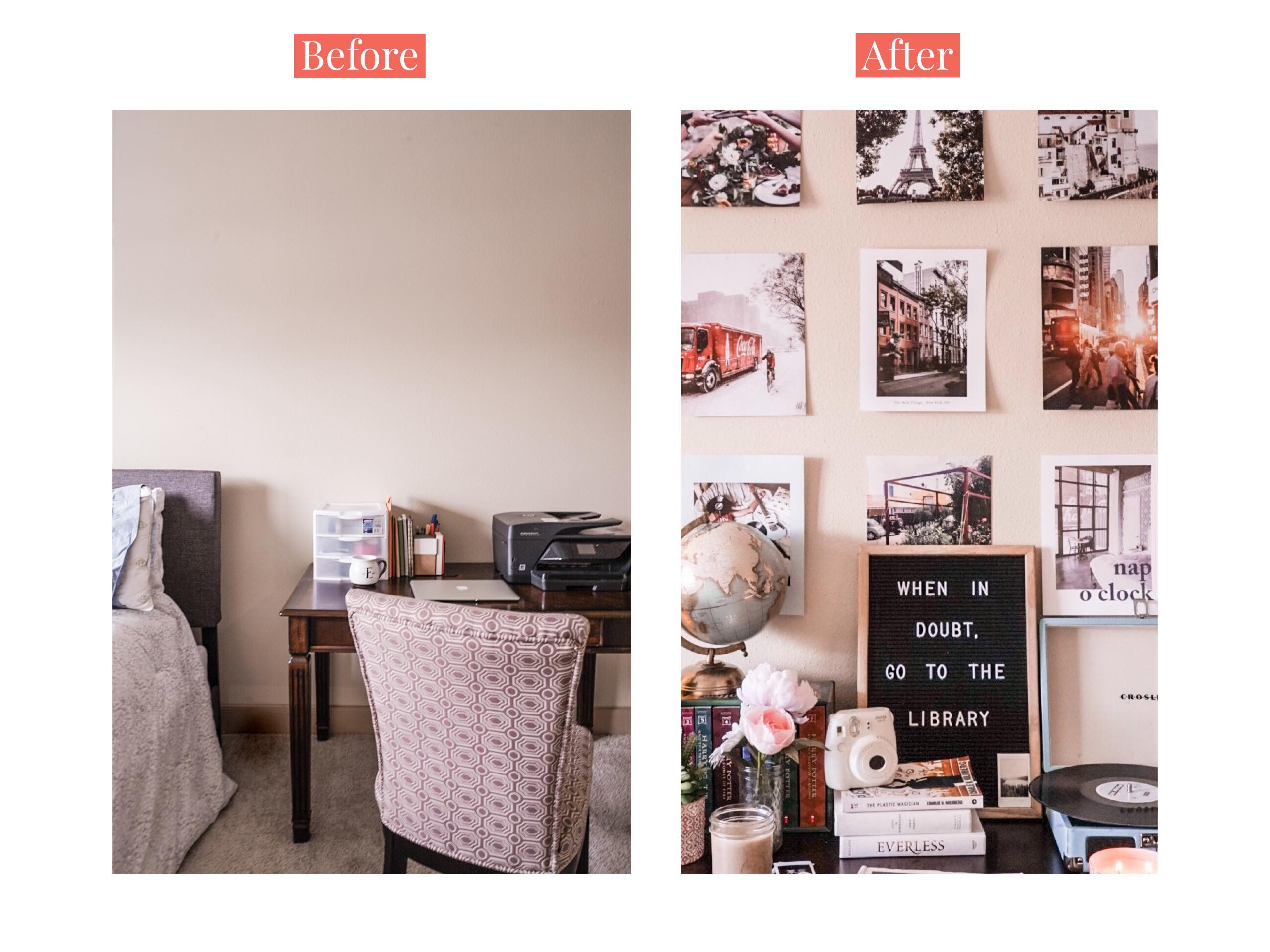 The letter board is probably one of my favorite finds because they're so much fun to customize and I knew she'd love changing it up!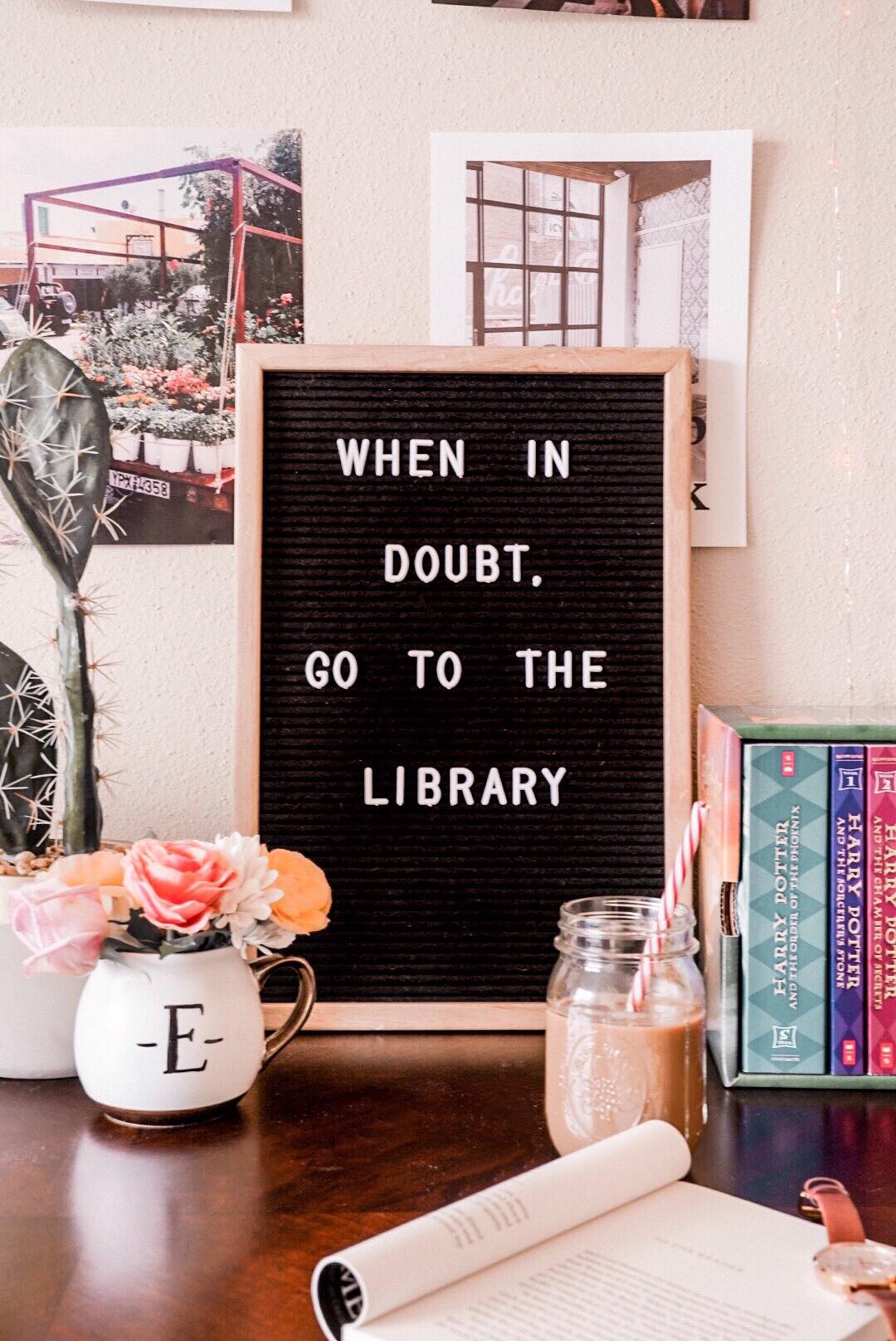 Next I added this rug! I've actually seen a lot of similar ones, but this one was only $59.99 and came in such a pretty, neutral pattern!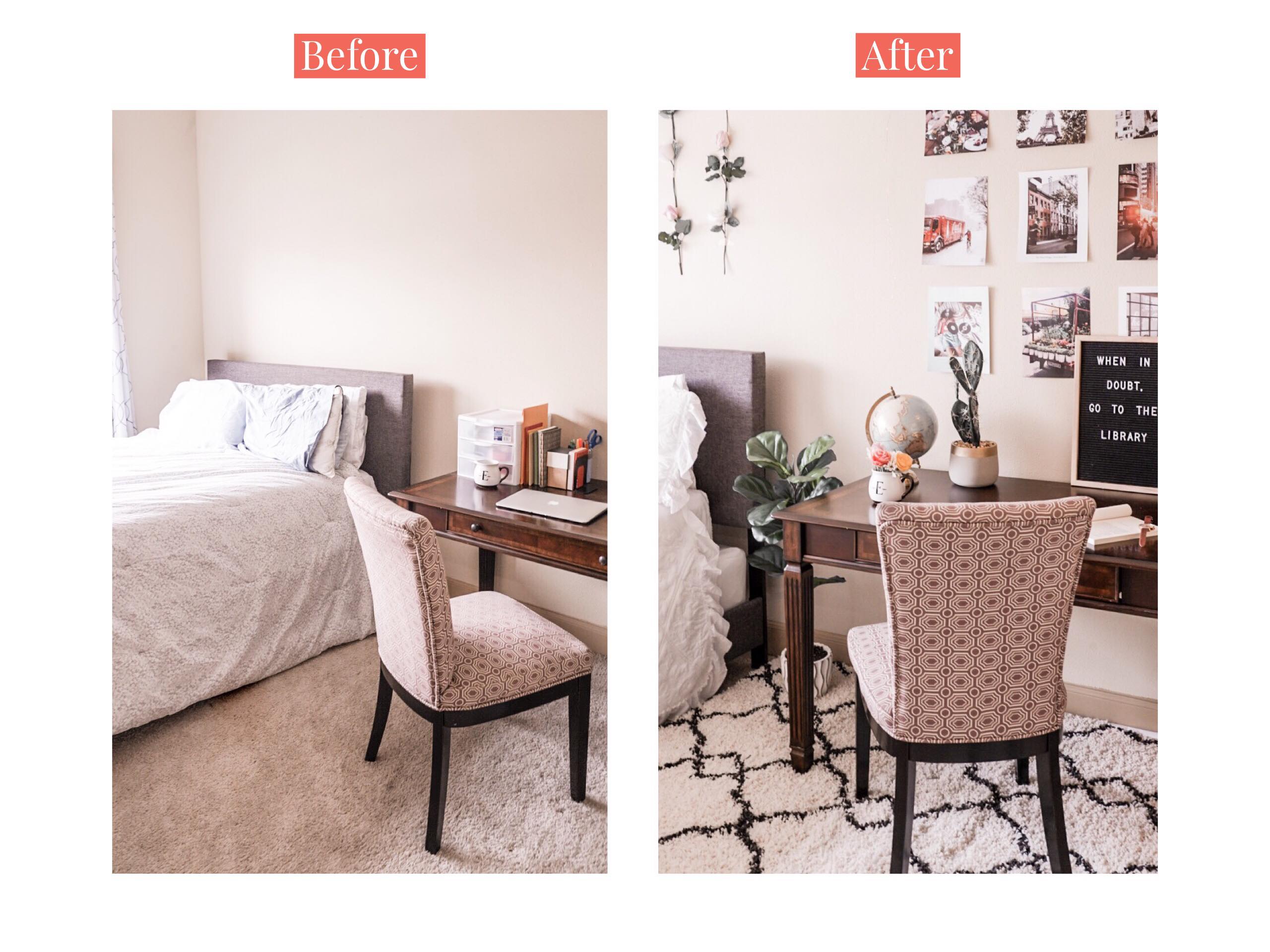 I switched out her bedding for a softer, white quilt and added a mint green quilt as an accent! Whenever I design a space, I focus on using neutrals and adding a pop of color because it leaves a lot of room to add more design pieces later.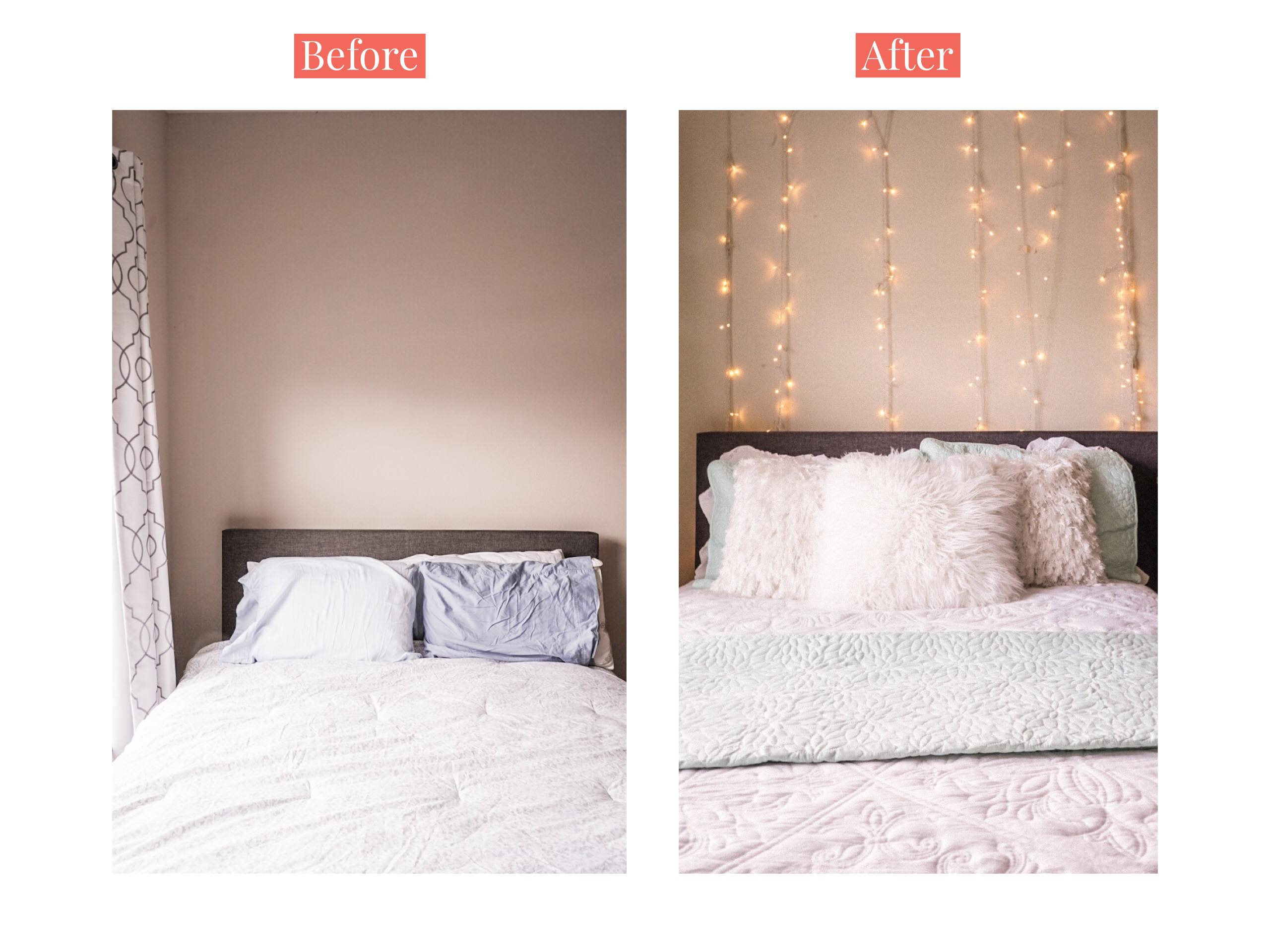 So funny story, I started decorating while she was at work in order to surprise her and it took a long time to move furniture and get things perfect! I was still running around like a crazy person, trying to pick things up and honestly only had like 90% of the room done. I was out buying more flowers for her flower wall and when I got back to her apartment, I saw her car. So I walked upstairs with her and at this point she realized something was going on! When she walked into the room, she was so surprised! Also, I ended up not even using the flower wall in the final look, as seen below, because it ended up not turning out as well as I had planned so in the end we added twinkly lights behind the bed!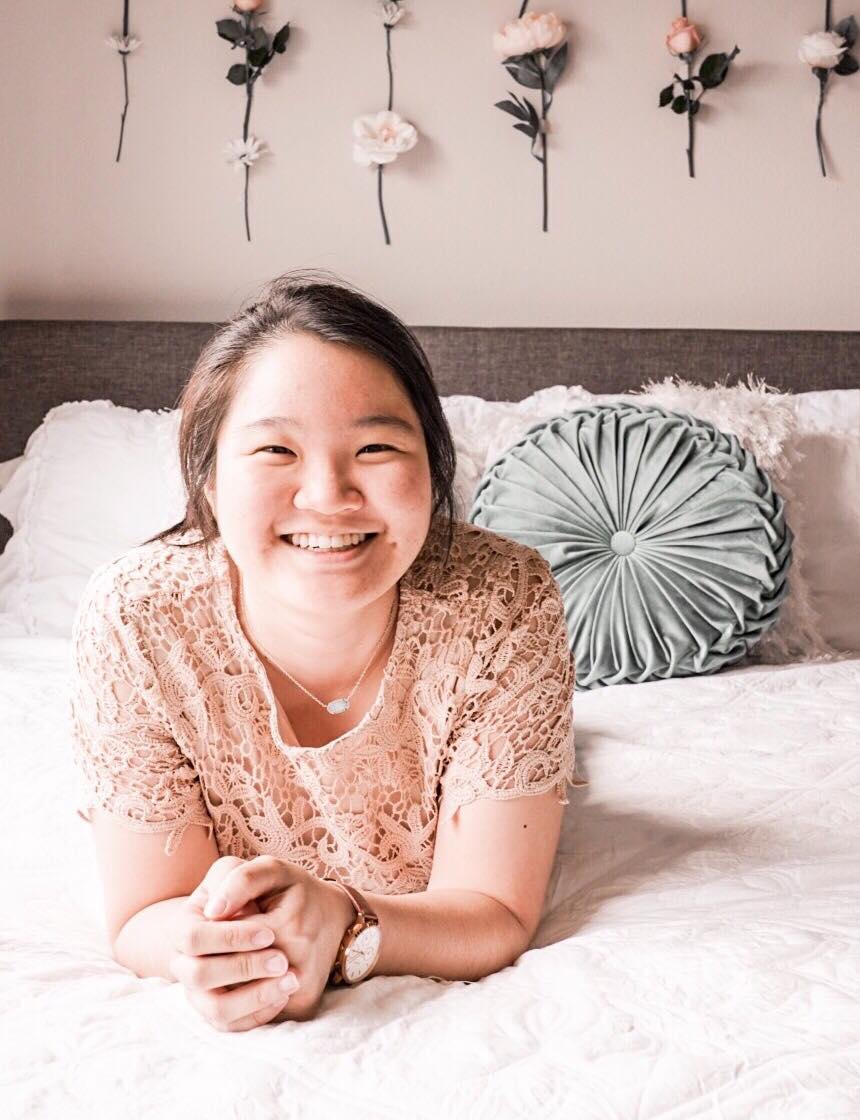 One of my big worries was that she wouldn't like the design because we have such different styles, but after asking her 3 million times if she liked it, she still said yes so as long as she's happy, I am!
Click here to find your closest Tuesday Morning! Tip: They have deals and coupons on the site so make sure you check before you head to the store!
Disclosure: This post was sponsored by Tuesday Morning and reflects my personal opinions on the brand.